Model Expo 2021 – Special Awards
---
Model Expo 2021 – Categories 28-37 – Automotive
Best Automotive – 1935 Morgan by Mike English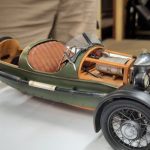 Category 28, Juniors, Automotive – Contest Results –
First Place – Mad Max 1969 Daytona by Leo Maida
Category 28, Juniors, Automotive – All Entries
Category 29, Automotive, Production / Replica – Contest Results –
First Place – 1967 Camaro Pace Car by Jay Coburn
Second Place – 1947 Chevy by Roger Underwood
Third Place – 1970 Baracuda by David Dale
Category 29, Automotive, Production / Replica – All Entries
Category 30, Automotive, Hot Rods, Street Rods, Street Machines – Contest Results –
First Place – 34 Ford Hot Rod by Mike English
Second Place – 1965 Chevelle Wagon by Roger Underwood
Third Place – 1941 Chevy Pickup by Jim Bunch
Category 30, Automotive, Hot Rods, Street Rods, Street Machines – All Entries
Category 31, Automotive, Custom – Contest Results –
First Place – 69 Camaro Harrier Jet by Jay Coburn
Second Place – Monkee Mobile by Charles Ruth
Third Place – 61 Pontiac by Mark Chan
Category 31, Automotive, Custom – All Entries
Category 32, Automotive, Competition, Non-Drag Racing – Contest Results –
First Place – Vanwall 50s by Mike English
Second Place – Lola T89 Japanese F3000 by Art Laski
Third Place – Nissan GTR Nismo by Mike Jordan
Category 32, Automotive, Competition, Non-Drag Racing – All Entries
Category 33, Automotive, Competition, Drag Racing – Contest Results –
First Place – Lutz and Lundberg Olds 442 by Paul Rowe
Second Place – 1965 Plymouth by Jim Bunch
Third Place – 1965 Plymouth by David Dale
Category 33, Automotive, Competition, Drag Racing – All Entries
Category 34, Automotive, Large – Contest Results –
First Place – 1935 Morgan by Mike English
Second Place – Altered Fiat by Bruce Snyder
Third Place – Honda AR273 by Jim Frye
Category 34, Automotive, Large – All Entries
Category 35, Automotive, Low-Riders – Contest Results and All Entries –
First Place – 64 Chevy Lowrider by Pablo Maida
Second Place – Corvair by Mel Hawkinson
Category 36, Motorcycles – Contest Results –
First Place – 1940s Harley Davidson by Mike English
Second Place – Honda RC211V by Bruce Snyder
Third Place – Honda CB77 by Pablo Maida
Category 36, Motorcycles – All Entries
Category 37, Automotive, OOB – Contest Results –
First Place – Purple Haze Fiat by Paul Rowe
Second Place – Mclaren Honda MP4-30 by Jim Frye
Third Place – Herbie Love Bug by Rusty Price
Category 37, Automotive, OOB – All Entries
---
August Project Pictures
We had a lot of projects in the works and completed during August. See below!
---
Works in Progress
Christopher Jonas started work on a Bandai 1/12 Star Wars R4I9:
Joe Diaz made a lot of progress on his XPlus Nautilus
Ethan Idenmill worked on his Polar Lights 1/2500 USS Enterprise (Star Trek: Discovery Version):
Ethan Idenmill also made a lot of progress on his Tamiya 1/35 M48A3:
---
Completed Projects
Sebastian Malinowski completed this Arma Hobby 1/72 P.11C:
Sebastian Malinowski also completed this First to Fight 1/72 Sd.Kfz 263 6RAD:
Christopher Jonas completed this Bandai Green Tiger Dom Mobile Suit:
Dim Chen completed this Aoshima 1/24 Nissan Skyline 4DR 200 GT-X Special 50163:
Rodrigo Rendon completed this Tamiya 1/48 F-14A Carrier Deck Diorama:
Armita Pebdani completed this Bandai Armored Trooper Votoms Diorama:
---
August 2020 Meeting
We had a great informal meeting at the Air and Space Museum Annex at Gillespie Field. Lots of great models and works in progress – pictures are below.
For our next meeting in September – we will have a theme: A subject of which you have build multiple models over your life. How many have you built? Why that subject?
---
July 2020 Model Project Pictures
Although the July meeting was cancelled, there were lots of model projects underway!
Bob Ekstrom completed his E2C Hawkeye, from VAW-123 "Screwtops". It is a Fujimi, 1/72 kit.
Alberto Ramos built his diorama of a Star Wars Imperial Star Destroyer, wrecked on Jakku.
Dim Chen built his Karl Mortar diorama.
Jeremy Jiao completed his Tamiya 1/24th Mazda 787b.
Ethan Idenmill finished his Tamiya 1/350 I-400 submarine, started work on a Polar Lights 1/2500 Star Trek USS Enterprise and continued work on his Tamiya 1/35 M-48A3.
---
IPMS USA 2019 Nationals
IPMS USA 2019 Nationals were held August 7-10 in Chattanooga, Tennessee. The following are pictures from the convention.
Pictures from the Convention Center, Vendor Room and Contest Room:
The Popular and Judges' Best of Show (both awards went to the same model):
The Best in Each Category:
Display-Only Models:
Aircraft Models:
Military Vehicle and Artillery Models:
Figures:
Ships:
Automotive:
Dioramas:
Science-Fiction and Real-Space:
Miscellaneous, Hypothetical, Humor in Modeling and Triathlon:
---
San Diego Model Expo 2019
San Diego Model Expo took place on Saturday, June 1, at the San Diego Air and Space Museum Annex on the north side of Gillespie Field. IPMS San Diego co-hosted it with the San Diego Model Car Club in association with the San Diego Air and Space Museum.
---
Display Models
---
Model Contest – Juniors