Star Wars Designer and Model Maker Colin Cantwell will be at this year's InterGalactiCon
|
Breaking news! Colin Cantwell will be attending and talking about his work at this year's InterGalactiCon!
For anyone who builds science fiction models, Star Wars represents a seminal event in the genre. Unlike previous science fiction movies and television shows in which everything was nearly pristine, George Lucas' concept of a "used universe" showed us spacecraft that were dirty and damaged, adding a visual sense of realism to the 1977 movie. For much of this, we have Colin Cantwell to thank. Mr. Cantwell designed and built models of most of the spacecraft that flew in Star Wars – A New Hope, including such iconic ships as the Tie Fighter, the X-Wing and the Millenium Falcon. Mr. Cantwell pioneered the use of kitbashing – taking pieces of existing model kits and putting them together into something entirely new. This process was used extensively in Star Wars – A New Hope. Mr Cantwell's other credits include 2001: A Space Odyssey, War Games and Close Encounters of the Third Kind.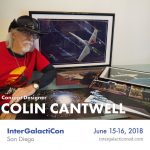 InterGalatiCon will be held Friday and Saturday, June 15-16 at the Town and Country Hotel in Mission Valley.
For more information – please see their website: http://www.intergalacticonsd.com